Harris Chain Lake Yale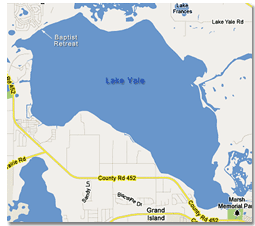 Lake Yale, is the only large Harris Chain lake that is not accessible from the rest of the Harris Chain of Lakes. The Yale Canal connecting Lake Griffin was sealed off many years ago. Lake Yale is approximately five miles long and 3 miles wide at the center. Boat traffic on the lake is minimal and the setting is generally private, which is it's appeal. Fishing pressure is much less than the rest of the chain, giving Lake Yale a reputation for quiet solitude and excellent fishing.
Lake Yale is a sleeper in the world of Florida lakefront homes and real estate. It size, natural setting and natural surroundings are hard to beat. A extensive nature area is located on the north shore of Lake Yale. There are a few lakefront homes on Lake Yale along the south and west sides. When one comes on the market, it usually sells quickly.
The Baptist Assembly has owned and maintained a large retreat and conference center on the West side of the lake for many years. This retreat is very popular with the church members with numerous families taking advantage of it's facilities.
There are two public boat ramps located on Lake Yale. Marsh Park, on the east side of the lake off highway 452. At the present time this ramp is closed due to low water. The park is well maintained and popular. The small canal leading to the lake can be dry during times of drought. A small dirt ramp on the north side is accessible by 4 wheel drive vehicles. The water quality in Lake Yale varies by season and rainfall. The water visibility is not clear, but it is generally better than the other Harris Chain lakes.
If you have questions about Lake Yale, please contact us.